Dear e-consumers,
Unifab, French anti-counterfeiting association, welcomes you on its authentic web page to enlighten you on the effects and consequences of counterfeiting and make you aware of the principle of good deal online.
We remind you that the first victim of counterfeiting is you!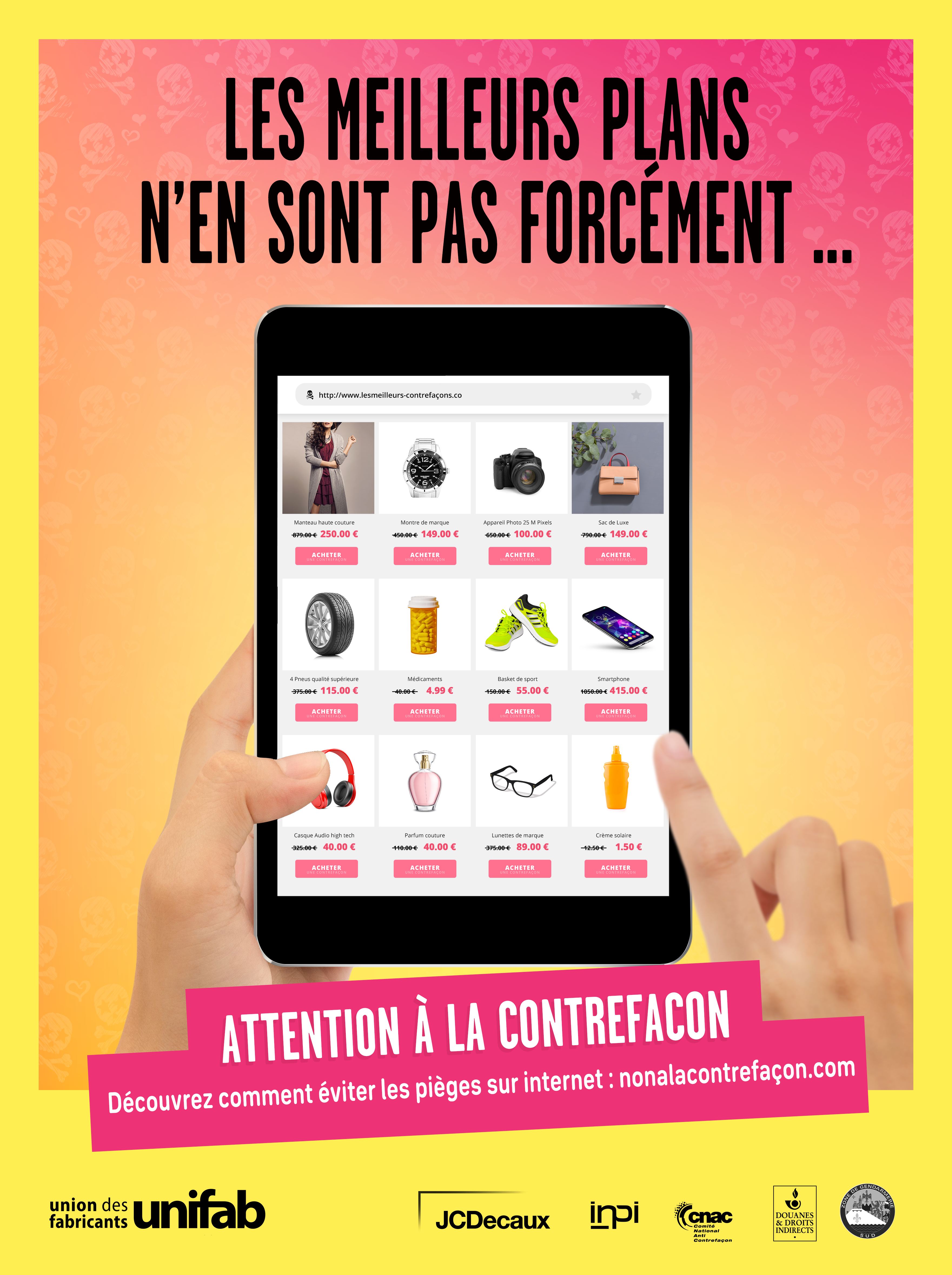 False products affect your safety, your health and the economy of our country. In addition to being illegal, these items are dangerous and cause many domestic accidents because the materials used for manufacturing are of poor quality.
Internet, which is one of the main suppliers of fake products, offers a multitude of products from all kinds. Counterfeiting is THE market most prized by criminals who do not hesitate to use it to finance other illegal activities such as prostitution, the purchase of arms, drugs and terrorism.
Counterfeiting is also a powerful obstacle for companies, which are sources of innovation and creativity, through the theft of their image, the shape of their products or their names.
To fight against this phenomenon, companies deploy so much financial means that some may be in danger.
Counterfeiter doesn't feel concerned by the planet, it doesn't respect any standard, intended to protect environment. Pollution and degradation are the least of his worries, the toxic elements he uses are a good demonstration! The false products have invaded internet, when you buy a counterfeit online, you attach to your order your personal data such as your credit card number, your address, your identity etc … All information that counterfeiters can use for their benefit.
To buy counterfeit amounts to guaranteeing the loss of more than 35 thousand jobs and 6.7 billion of revenue in France every year! You pay taxes that counterfeiters don't…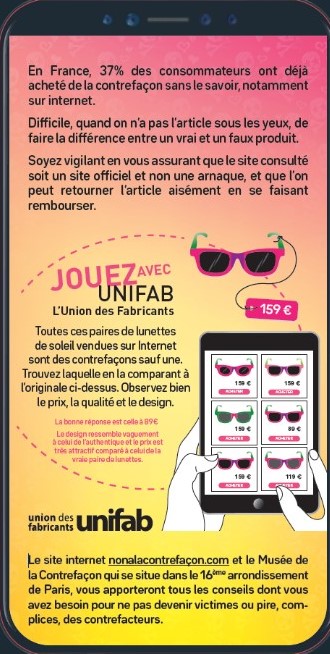 Some tips for staying responsible e-consumers:
– The price is a good index, if it is too attractive it seems fishy. Especially when a product is in vogue..
– Spelling and grammar mistakes on websites, contact sections, legal notices, general sales conditions … are a proof.
– The site on which you are about to buy your product, some brands use a selective distribution network and list them on their official website, so it is easy to find them.
– Depending on the sector, companies do not sell on the Internet, so you have to search through an online search and especially on their official page. If we find that the brand itself does not sell on its own site, there is little chance that this is the case on others that do not belong to it.
– We must be vigilant to the quality of the site that we covet and the after-sales service that must ensure any defect or problem with the product. If there is none, it is not normal.
– Some sectors are highly regulated and subject to particular constraints. We can not find on any platform drugs, food, drinks, etc …
– The e-reputation of the seller is also essential especially when one is about to buy on online sales sites. You have to do some research to be sure of the good faith of the seller. Sometimes when asking a question about the origin of the product, the quality of the answer is revealing.
– Searching and accessing legal download platforms when you want to see a movie, listen to music or read a book is simple.
– The verification of the security level of the site, mainly for a payment, is important to avoid being fooled and being impersonated.
The entire Unifab team hopes that this awareness time has been informative and we would be delighted to see you again at the Museum of Counterfeiting in the 16th arrondissement of Paris.