Official launch by all partners of this campaign
L'Union des Fabricants (Unifab), French association for the promotion and defence of intellectual property rights, which represents 200 companies and professional federations from all sectors of activity, encourages solidarity against counterfeiting and piracy, on the occasion of the launch of its online consumer awareness campaign.
Christian Peugeot, President of the Unifab – Gérald Darmanin, French Minister of Action and Public Accounts – Christophe Blanchet, Member of French Parliament for Calvados – Richard Yung, Senator of French abroad & President of the French Committee of Anti-Counterfeiting (CNAC)– Pascal Faure, General Director of the French IP Office (INPI) – Isabelle Braun-Lemaire, General Director of the French Customs and Denis Rapone, President of HADOPI ; reveal together the content of this major campaign through sound advice for all citizens.
In order to fight against the growth of fake products, of which 4.5 million were intercepted by French Customs in 2019, major actors of the authentic world are committed to unite, in this unprecedented context of health crisis, to warn the population about the dangers they are facing when buying counterfeits.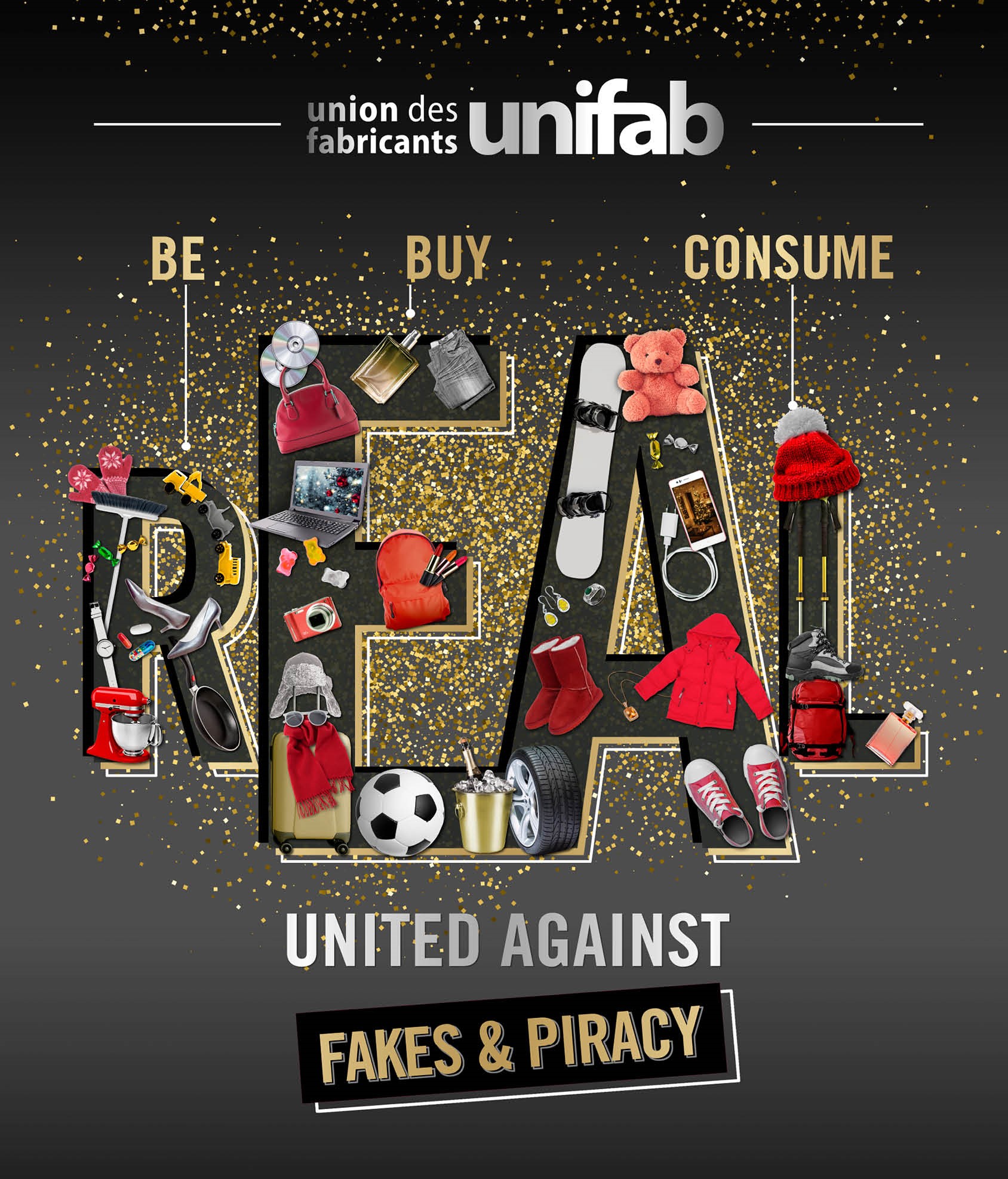 The enlightening facts and figures about the current situation must be highlighted and raise a collective awareness, particularly regarding:
impacts on economy, revealing huge losses in France with 6.7 billion each year and more than 38,000 jobs suppressed. This phenomenon, which represents 3.3% of global trade, extends to all European member states which lose 15 billion euros in public revenue each year,
impact on the environment, in particular with the discharge of toxic waste into the environment, and disrespectful conditions of manufacture of these illegal products,
health and safety of consumers is a real issue, as 37% of them, in France, have already been duped when buying a counterfeit online, thinking it was a genuine article,
« Be, Buy, Consume, REAL. United against fakes and piracy », is the slogan that will be shared by Unifab and its partners, in the city of Paris with the help of JCDecaux, or on digital media, with Facebook / Instagram, Dailymotion, Google and eBay, through the implementation of banners on their platforms. These elements will help raise awareness among the population.
As the quarantine enabled a rise in the sale of fake products online, it was essential to digitise the campaign. Counterfeits of all kinds, linked or not to the COVID-19 pandemic, could be found:
nearly 34,000 fake medical masks out of a total of more than 37,000 unauthorized and counterfeited medical devices,
the identification, by the authorities, of more than 2,500 networks linked to the selling of counterfeits on the Internet, social networks and online markets,
the seizure of potentially dangerous fake medicines worth 13 million euros,
the inspection of more than 325,000 parcels and the seizure of about 50,000,
the seizure of 4.4 million illicit pharmaceutical products,
the shut down of 37 organized crime groups.
During this period, counterfeiters did not hesitate to adapt and transform their production tools in order to expand the scope of their action:
factories of small household equipment were transformed into factories of fake masks,
production units of counterfeited perfumes changed into fake hydroalcoholic gels factories,
counterfeiters specializing in leather goods became manufacturers of masks, which undoubtedly, do not respect the specifications and health regulations…
Unifab takes the opportunity of this official launch to make specific recommendations to policy makers, such as intensifying the measures that have been put in place by providing their support to operational staff in the customs, police and gendarmerie, the requirement of a clear response from e-commerce platforms by the proactive removal of illicit ads, policy and regulatory actions from governments by prioritizing intellectual property crimes that would harm the economy, the environment and consumer trust.
The 2020-2021 campaign represents a new way of getting involved in the fight against counterfeiting, especially thanks to the webpage dedicated to consumers on the Unifab's website, and to be able to be an expert buyer by testing one's knowledge through a quiz.
To discover all advice and test your knowledge with the quiz CLICK HERE